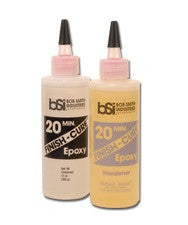 BSI Finish Cure 20 minute Epoxy
BSI Finish Cure 20 minute Epoxy
4.5 oz
13.0 oz 
Store and use at or above 75 degrees Fahrenheit (23 degrees Celsius)
BSI can be used for undercoating or as a finish using 2 or 3 coats. It has a long setting time of 20 minutes and is excellent for gluing inlays, tips, decor rings, etc...
Best used for coating and finishing
Water resistant
Works best on balsa wood, hard wood, fiberglass, white foam, and laminating
Easily sanded
Up to 45 minute working time and sets overnight. Allow 8 hours for full curing.
BSI Super-Fix Filler - Welding Powder is available here


---
We Also Recommend